Pros
High-quality trading platform
Advanced tools
Automatically analyzes the market
Transparent and good conditions
Cons
No transaction-fee-free mutual funds
One platform to trade
Company Information
OctoFinance is a trusted global broker. OctoFinance's team consists of only highly qualified professionals with excellent customer service skills and long experience in the finance branch. They offer you the most transparent market conditions. They provide as much information as needed in the order you could predict potential price movements and other changes. Moreover, they give you access to many automated trading strategies.
Markets
OctoFinance scans markets very carefully for real time-pricing and automatically analyzes the market so that you predict the possible swifts on the market. The main perk of trading with OctoFinance is that you can trade whenever you want. Just pick up any device and go for it. OctoFinance provides you also with the best trading conditions at any market you select.
You can capitalize on diversity in markets like different currencies, stock, products, or indices. Just for your information, the stock market is the oldest one, and the most popular among the customers. Although, the others are gaining more and more popular every day as well.
● Indices
● Currencies
● Stock
● Products
Trading accounts
Let's compare the three types of account the broker offers: Mini, Standard, and VIP ones. The main difference lies in the amount of the first deposit, leverage, spread, number of trading tools, and some other additional perks.
MINI

• First deposit – $250
• 50 trading tools
• Leverage – 1:200
• Spread – from 3 points
• Bonus – up to 35%
• Account insurance – up to 15%
• Commission fee
• Micro lot trading available

STANDART

• First deposit – $1000
• All trading instruments available
• Leverage – 1:100
• Spread – from 2 points
• Bonus – up to 75%
• Account insurance – up to 40%
• No commission
• Micro lot trading available

VIP

• First deposit – $5000
• All trading instruments
• Leverage – 1:20
• Spread – from 0.7 points
• Bonus – up to 100%
• Account insurance – up to 75%
• No commission
• Micro lot trading available
Open an account
Account registration at OctoFinance is a straightforward process. To complete the registration of an account at the Octofinance broker you should submit the basic documents like some verification of a person and an address. Once you have completed all the above steps you will have access to a live trading account.
Minimum deposit
Mini accounts can be opened for as little as $250, at the same time Standard accounts require a slightly higher minimum deposit of $1000. Last but not least, you can open a VIP account with a minimum deposit of $5000.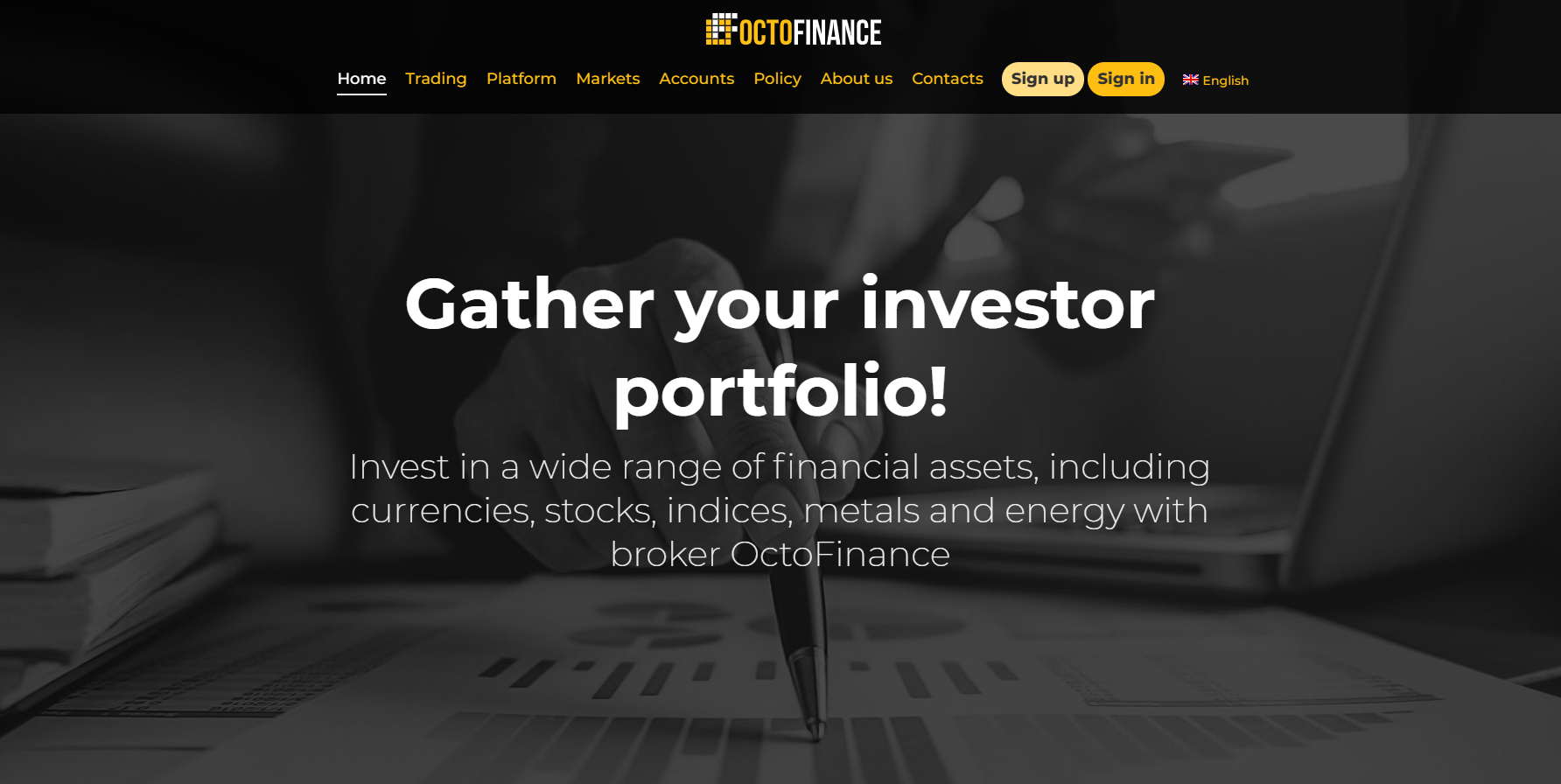 Trading Platforms
OctoFinance offers the MetaTrader platform. The trading platform often comes with charting, research, and order processing tools as well. MetaTrader platform allows you to trade directly from the charts, basically in one click. You can place, limit, and stop orders, set and change, fix profits and stop losses, as well as set trading alerts. To recommend only high-quality brokers, our reviewers have tried and tested OctoFinance's trading platform, taking into account the factors like how easy it is in use and what features it offers. At OctoFinance, you can trade using MetaTrader and MT for mobile. MetaTrader is often considered as one of the most popular trading platforms. In other words, it is well developed and meets the needs of a lot of users. The software is rather simple and convenient for many users, that's why many prefer it so often. Besides, with the MT platform, the broker allows you to trade all of the available instruments.
Our verdict
In reviewing OctoFinance, our experts concluded that this well-regulated broker suitable for those who want to trade through the MetaTrader platform. OctoFinance has gained respectable experience over the years. It also gives a bunch of incredible trading tools, which will come in handy. They also suggest good conditions to trade on the market, while offering a plethora of trading activities. Tight spreads, fair deposit limits, and low non-trading fees also make this broker highly accessible. We'd be happy to recommend this broker to traders of all levels, yet we found that intermediate and experienced traders will find it particularly appealing, thanks to the advanced platform and features suggested. So, feel free to sign up with OctoFinance right now to benefit from a trusted broker that offers many advantages over its competitors.