Pros
Commission-Free Trades
Easy-to-Use Interface
Research and Education
Cons
Complicated for Total Beginners
Company Information
TD Ameritrade is a well-known broker with long experience in the finance branch. TD Ameritrade is good at research and screeners. They also developed TD Ameritrade app. The app is highly rated by the users. It is available on iOS, Android, and Windows devices. Clients can get streaming data, invest in mutual funds, or trade stocks and complex options contracts with a smartphone or a tablet.
Markets
TD Ameritrade offers a laundry list of stock, option, and mutual fund screeners that you can use for free. The markets are the following:
● Stocks
● Options
● ETFs
● Mutual Funds
● Futures
● Forex
● Annuities
● Commissions
● Managed Portfolios
● Cash Management
● Bonds and CDs
Trading accounts
TD Ameritrade has the variety of account, as their main desire is to meet all the requirements of their customers. They offer you to choose between the following accounts:
Standard

can be individual or joint accounts and can be upgraded for options, futures, and forex trading as well.

Retirement

offer the Traditional IRA, Roth IRA, or Rollover IRA that will help you pursue your retirement goals.

Education

are offering flexibility when it comes to saving for education, at any level, customers choose from various state-qualified 529 Plans, tax-free Coverdell, or UGMA/UTMA accounts.

Specialty

make planning for the future from individual trusts and pension plans to business partnerships and sole proprietorships

Managed Portfolios

save your time and allow you to stay invested for the long term with professionally managed portfolios offered by TD Ameritrade Investment Management, LLC.

Margin Trading

allow you to borrow money from TD Ameritrade and potentially increase your securities buying power by as much as 50%.
Open an account
You can open an account within 10 minutes, as all you need to do is to provide the broker with basic personal information, confirm your email, choose an account type and make a first deposit. After providing all the necessary information, you are free to start trading.
Minimum deposit
The minimum deposit depends on the type of account you select, as well as what assets you choose for a trade. There is no limitation on the minimum or maximum deposit any trader is willing to make. You can deposit either $1or $1 million, TD Ameritrade can take them in. All you need to do is to open an account.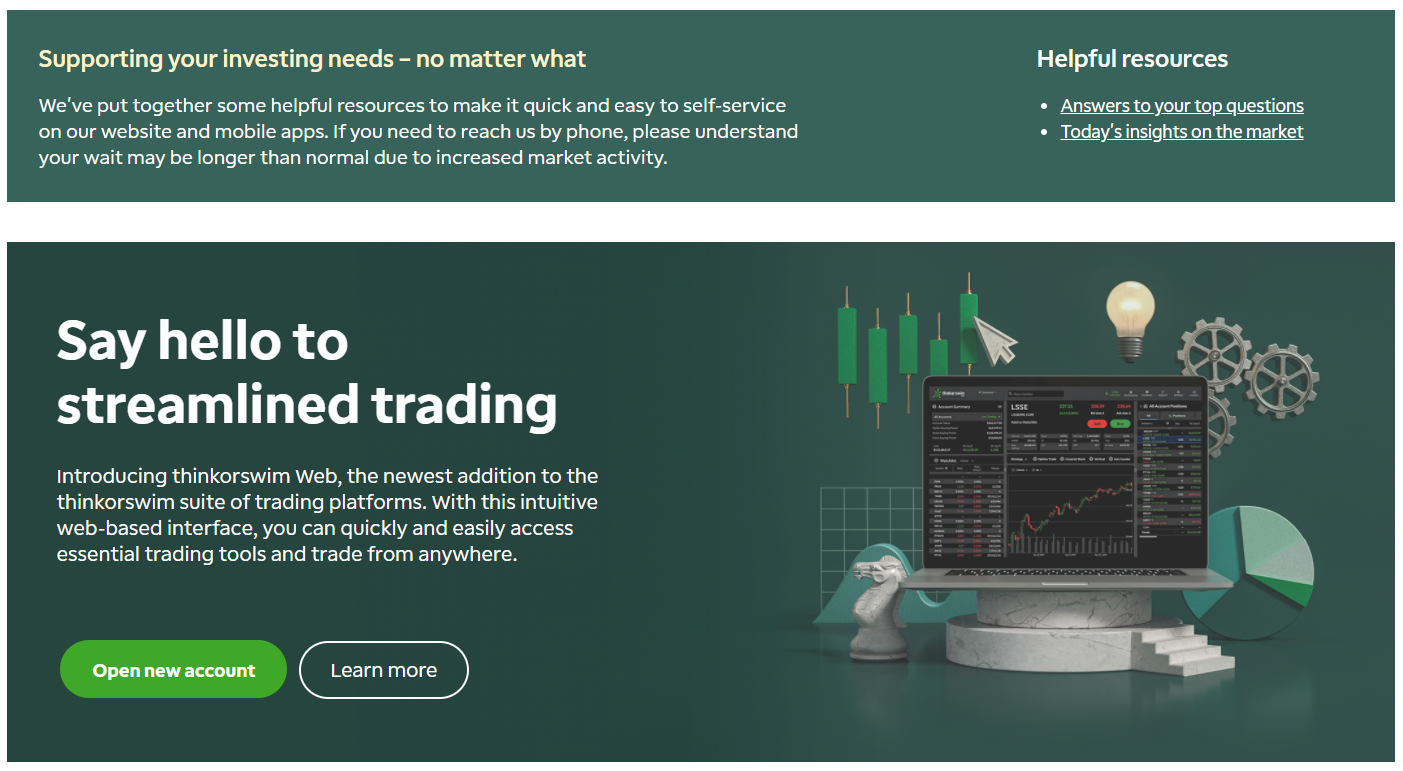 Trading Platforms
TD Ameritrade offers different platforms for their clients to find the perfect one. Firstly, comes the Web Platform, which is their classic platform. The mobile-optimized web platform makes it easy to check your funds, research potential investments, and confidently place trades on your phone, tablet, or desktop. Secondly, comes thinkorswim Desktop, which gives you access to great trading tools and a platform backed by education, and a dedicated trade desk. Thirdly, thinkorswim Web is the latest addition to the thinkorswim trading suite. It requires no download, so it takes the essential tools from thinkorswim Desktop and makes them easy to access and even easier to learn. Finally, Mobile Trading allows you to trade anywhere you want with through two mobile apps compatible across all your smart devices. Select the app that helps you trade most conveniently. So you are to choose between the abovementioned platforms, which is more appealing for you.
Our verdict
We hope our TD Ameritrade review will help you determine if this is the right stock broker for you. That's why we have selected the best benefits that TD Ameritrade offers, which we believe will come in use. Although, do remember that you decide, what is important for you, we are here to help. Moreover, TD Ameritrade may win over customers proffering face-to-face customer support, as they have many offices in most major metropolitan areas. The biggest perk of TD Ameritrade is the possibility to trade with $0 commission, which is very good for the customers. It suggests very competitive pricing you'd expect of an options trading broker and for mutual funds online. However, it doesn't mean that they offer the cheapest services for all types of trades. For your information, TD Ameritrade still charges for automated phone trades ($5) and broker-assisted trades ($25). So, we are happy to recommend you this broker, but pay attention to all the pros and cons, before deciding.