Pros
Wide choice of traders to follow and copy
Good choice of brokers in different countries
Cons
For every successful consistent trader there are also some poor and inconsistent ones
Money management can be complex for non-Forex traders or beginners
Requires regular monitoring until the right mix of Traders is selected
Company Information
ZuluTrade is a popular social trading platform that connects traders and investors from all over the world. ZuluTrade was founded in 2007 with head office in Greece. The founders aimed to build software that allowed them to copy the trades of the best traders. By 2009, the company has gained over 4,500 expert traders or signal providers. In other words, it was their portfolios that users could copy to make money. It is fully regulated in Europe, while its US website is compliant with US regulations.
Markets
ZuluTrade suggests its customers over 300 different instruments to trade. It offers Forex, CFD and Cryptocurrency trading services.
● Cryptocurrencies
● Forex
● CFDs
Trading accounts
When choosing to open a live account, you will have to decide between two straightforward options. It is possible to link an external live or demo MetaTrader 4 (MT4) platform to a trader account. There is also a possibility to open a demo account with ZuluTrade. The broker provides its clients with the following types of account:
Classic

suits more for advanced users. You will benefit from manual or fully customized copy-trading, plus standard volume-based commissions. However, make sure you are sufficiently experienced before opening a signal provider account.

Profit sharing

suits more for beginners as you get to learn by copying others. Traders will be compensated when you profit and penalized when they lose. You also benefit from reduced commissions.
Open an account
You can create an account both as a provider and an investor. Registration is fast. Fill in the name, surname, mail, and phone number. Next, confirm the email address and select the type of account: Classic (fixed commission) or Profit sharing (give part of the profit). The next step is to choose a broker for trading and connect the trading account to your ZuluTrade account.
Minimum deposit
The minimum deposit depends on the chosen broker. The service is supported by about 50 brokers. In addition to the regular spread, brokers charge 0 to 3 pips commissions for linking your account to ZuluTrade. Generally, it kicks off from $300.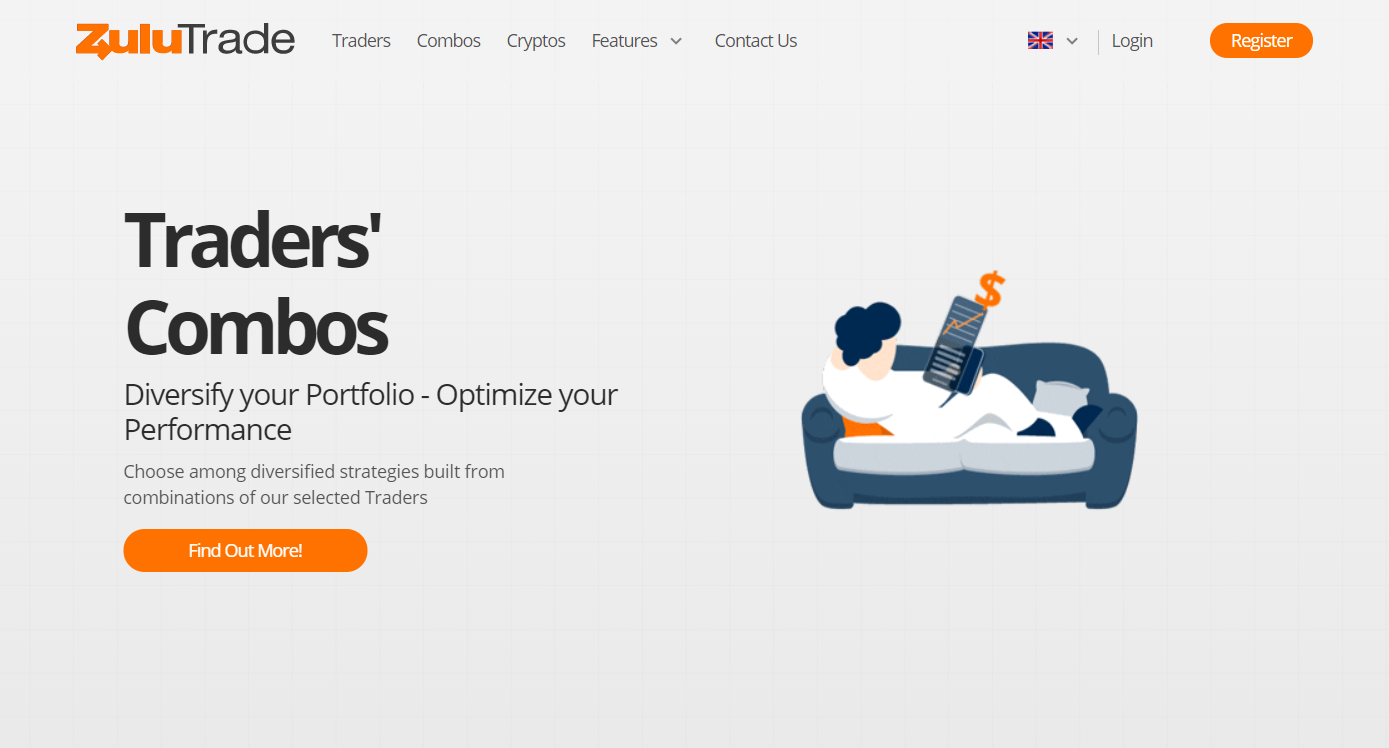 Trading Platforms
Trading is carried out in the MT4 terminal or through the ZuluTrade web platform. You can read more about the very popular MetaTrader 4 platform by clicking here.
There is also a functional mobile phone app at your service. A very useful feature is "social charts". Here users can mark their trades on the chart, share their comments, and exchange opinions. The ZuluTrade platform has a good set of indicators and offers the ability to create trading robots by running your own ZuluScripts.
Our verdict
The main advantage of ZuluTrade is its social component, which allows traders and investors to communicate with each other. The fact that the platform remains open gives the opportunity to anyone wishing to become a provider and making a profit from their strategy. The very fact attracts many users from all around the world. However, here comes a problem – finding really experienced and reliable signal providers. Therefore, investors will be required at least a basic knowledge of capital management. It also offers a good mobile app for its users. We recommend that you carefully study the statistics of providers and diversify the risks to prepare yourself for the conditions.